To upgrade your embedded reCAPTCHA integration to reCAPTCHA v2, you must take the following steps:

1. First, register for your own reCAPTCHA keys at https://www.google.com/recaptcha/admin#list (v2 keys are domain-specific). You must log into your Google account, or create an account if you don't have one: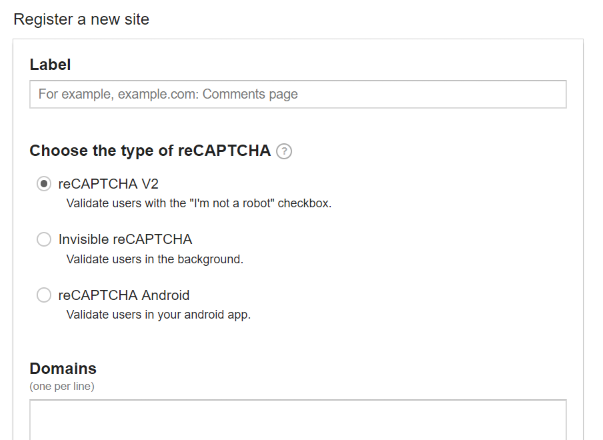 Under Label, enter your site name or the same by which you want to identify it
Select 'reCAPTCHA V2'
Enter your site domain (excluding the http:// or https:// and the www)
Tick to accept the terms and conditions, and click 'Register'
You will see the following information displayed:

Keep the page open in your browser, or copy and paste the two keys into a text file.

From the Sellerdeck 'Settings' menu, select 'Site Options' and click the 'Properties' tab
Scroll down to the reCAPTCHA group




Copy and paste your new Secret key into the 'ReCAPTCHAPrivateKey' field
Copy and paste your new Site key into the 'ReCAPTCHAPublicKey' field
Click 'OK'
Upload
Repeat the steps b to j for each site you own. If you have sites in different versions of Sellerdeck Desktop, make sure you use the correct content for each version.